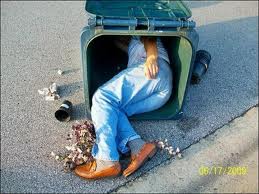 Imagine this…You forget to unplug the iron, it falls and burns a big ol' hole in your ironing board cover. Rats! Thank God, it didn't catch the house on fire. Still, you feel like an loser.

Or get this, You're late and your whipping in and out of traffic like Jeff Gordon. All of the sudden your car slows down and it's not because you let your foot off the accelerator. It's because your gas tank has gone bone dry. You forgot to get gas this morning. Grrrrrr!….You think, "I'm such a dork!"

Or you bounce a check…again. In fact, it's the third check you've bounced this month. Not intentional. Just happened. You were juggling things – trying to make it all work. Fail. Fail. Fail. What slips out of your mouth? I'm such a failure!

When you goof up, what's the first thought that races through your mind?

I am so stupid!

Really?

Is that the best you can come up with?

Or try this on for size…

"Gosh, I just can't get it right."

"I am so forgetful."

"I'm an irresponsible dim whit."

"I'm such a goof!"

"Nice job, bozo!"

"I'm such a fool, will I ever learn?"

"I will never get ahead!"

Ouch. Ouch. Ouch.

Wonder how God stomachs all of our insane, self-inflicting comments when we start letting them roll.

Right now, I'm picturing God sitting on His throne, listening to someone tear you, someone He loves, into shreds. Doesn't matter that the same person who's spouting off the name-calling is also the recipient. When you start getting down on yourself, you're hurting someone God loves.

And that's wrong. Stop.

Know what? God would never call you names. Regardless of your mistakes! And God would never ask you to do anything He doesn't do himself. If He asks us to think about the good in other people, then He's thinking about the good things in us too.

Let's take it a step further. God asks you to think Philippians 4:8 about yourself.
And now, dear brothers and sisters, one final thing. Fix your thoughts on what is true, and honorable, and right, and pure, and lovely, and admirable. Think about things that are excellent and worthy of praise. Phil 4:8 (NLT)
What about you is true, honorable, right, pure, lovely, and admirable?
Think on that! But don't just think on that, FIX your thoughts on that. In other words, those thoughts about the good in you should consume the majority of your thoughts. When you "fix" something in your mind, your thoughts don't move. They stay. They stay on the good.
Rather than trash yourself, treasure yourself.
Cause you are good stuff to think about and you're good stuff talk about.
Let me know if this post has connected with you. Tell me about your struggle and your success in the area of talking about yourself. Pop your thoughts into the comment section!