If you've got a stirring deep inside of you to BEMORE, than you're going to want to read this new book from Sandi Krakowski. Let me set this up for you because this just may be a piece to your success-puzzle.
First, you've got to know, I read a lot of books. Hundreds of them a year. Yes, I said hundreds. So when I come across one that has the potential to be a change agent in people's lives, you betcha… I'm going to pass it on.
If you're one of my life coaching clients, you know I value reading and I often nudge others to read. If you're one of my regular's reading my blog or watching my videos or maybe listening to my podcasts, you've heard me say countless times,
You've got to fill your mind with valuable content so you can move forward.
So, let's cut to the chase. Here's why I'm asking you to get a copy of Sandi's book, #BEMORE: 77 Secrets to Your Powerful Life:
It's simple…
I'm selfish.
Yes, this is about me…
I WANT YOU to be more.
I want you to reach your full potential.
I want you to become everything God designed you to be.
I want you to kick some devil-bootie and show him who's boss.
Heck, I want you to stop being pushed around and finally be the boss of your own life.
And when you get stuck along the way like you have countless times before…
When you don't know what else to do because your last plan failed…
When you feel no one else "gets" what you're trying to do…
When you're bruised from being kicked around…
When you've lost hope because you're fresh out of ideas…
You're going to need a seasoned veteran who's been there. Someone showing you how to pull yourself up out of the mud of discouragement, how to pump strength back into your tired hands, how to stir up the passions and gifts that lie within, and how to keep  pressing on even when you see nothing happening.
Sandi Krakowski's your go-to-gal.
Sandi's #BEMORE: 77 Secrets to Your Powerful Life is your book.
She'll help you get there.
You might be wondering, how did this Sandi gal earn her chops? For starters, she was flat broke as a single mom with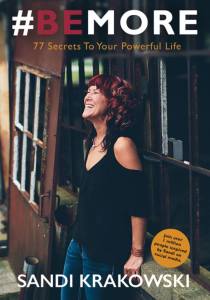 little kids, yet she figured out how to tap into a God sized dream that made her a multi-millionaire.
Not bad, huh?
There's more. She's noted by Forbes as a Top 20 Online Marketing Influencer of 2014, Top 20 Women Social Media Influencer and a Top 50 Social Media Power Influencer. She's got over 750,000 fans on Facebook. And millions know her name.
But do you want to know the real secret to what makes her such a powerhouse? 
She's backed by Almighty God. Yup…the same God who backs you. So my dear, if God will do it for her, God will do it for you. He'll help you be more. He'll take you from zero to hero. He'll put all the resources of heaven and earth behind you IF you will believe you can #BEMORE.
Not gonna lie. Sandi pulls no punches in her book. She's to the point. Yet every point is prophetic and powerful.
Let me give you just a few bite sized tastes of what lies within the pages she's penned:
And my favorite quote from her book… 
Oh snap! Know what just happened? 
You were stirred up. You were given a glimpse of what could be. You were moved!
Something is shifting right now inside of you. God is at work doing something in you that's bigger and better than anything you've experienced before. Get ready to #BEMORE.
Now go grab Sandi Krakowski's book and #BEMORE!
Want to stay connected and be the first to get my posts hot off the press? I'll even give you access to watch this episode: "Do You Know If God is REALLY Speaking to You?". Click here now!