Do You Feel Dirty Because of Your Background?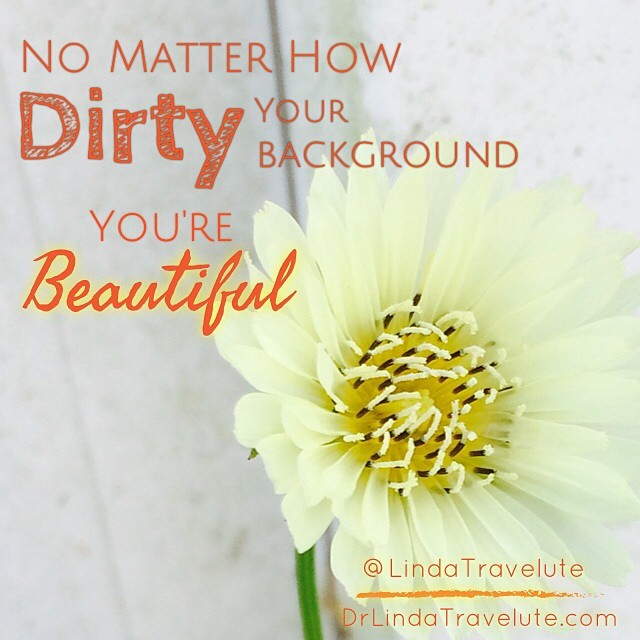 Susan came into my office and sat down. By the way she slumped into the chair I could tell things were eating away at her.
As she was unloading a dirty list of secrets, her head kept dropping a few notches with each account.
Stopping her, I said, That's it. You're done. You have a dirty record. You smell of sleeping with another man you're not married to, you've been lying to your best friend about your extra curricular activities. But that's it.
She looked at me confused.
That's it?
How can you say that? Can't you see how bad I feel about myself?
Yes, I shot back. I can. But you are forgiven, aren't you? You have a Savior who paid for your sleeping around, right?
I guess so, she said.
And you have a Savior who cleaned the slate when you continued lying to your best friend, right?
She said…Sort of.
Sort of?!
Wait a minute, I said.
You believe Jesus died for you?
Yes, I do.
Then that's all we're going to focus on from here on. Got it?
How dirty is your background?
Spotty question, huh? Gonna give me a spotty answer?
Hey, it's just you and me here, so let's be real with each other. I've got skeletons in my past, you do too.  And I bet it makes you feel…
embarrassed
not-good-enough
ashamed
like a "low-life"
unacceptable
unworthy
unapproved
dirty
I'm feeling ya.
But I want you to know today that no matter how dirty your background is, you're beautiful. Oh, you may not feel like you're beautiful, but if you can put your emotions aside, and put this fact in front, you'll begin to feel it.
I've got a little recipe for you. I know this could sound a little silly, but if you give it a go, you'll find it changes how you feel about yourself. YES, you will start to REALLY feel beautiful (or guys – you can feel handsome).
With this concoction, you can finally start to put the past behind you. Regardless of what you've done, regardless of who did what to you and how you responded. Regardless of how you have coped with your past in the past – today can be the start of a new kind of feeling. A new beginning.
Ready to feel…
Secure
More than Good-Enough
Confident
Like a Boss!
Accepted
Worthy
Approved
Beautifully Clean
Here we go, here's the recipe:
Take each of these verses. Write them out or print them. Keep them close by and read them in the morning. In the middle of the day. And yes, before you go to bed.
Why? Repetition of these scriptures will transform your thinking. And your "right" thinking will morph your feelings. You'll feel beautifully clean.
Check these "Clean – Feeling Adjusters" out:
he saved us, not because of the righteous things we had done, but because of his mercy. He washed away our sins, giving us a new birth and new life through the Holy Spirit.
My old self has been crucified with Christ. It is no longer I who live, but Christ lives in me. So I live in this earthly body by trusting in the Son of God, who loved me and gave himself for me.
This means that anyone who belongs to Christ has become a new person. The old life is gone; a new life has begun!
Stick to this recipe and you'll be feeling beautiful in a short time! It worked for Susan. It can work for you too.
Share this post with your tweet peeps, they need to feel beautiful too.