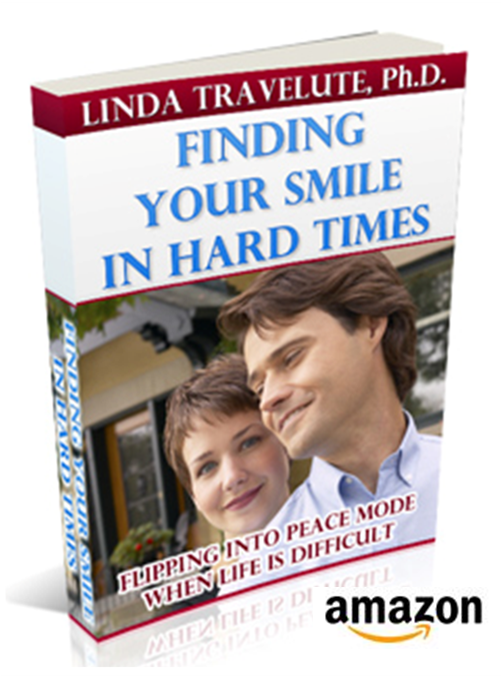 Do you feel like life has smacked the smile off of your face? I have too. But I've learn how to get my smile back. And I want to help you do it too. Let me show you how you can be flipping into peace mode, even when life is difficult!

If you've got  half an hour, you've got the time it takes to discover how you can find your smile in hard times. Yep, even in the midst of the darkness, you can find relief from your pain.

My new mini-book, Finding Your Smile in Hard Times, is a quick little read that will quickly change your life! Read it on your lunch break, before dinner, or as you're winding down for bed. In my mini-book, I will show you how I got my smile back after walking through difficult challenges and how you can to. Life can be a booger, but let's not let it steal our happiness!

Get the mini-book here. Click and it will take you right to the Amazon link where you can download it. Even if you don't have a Kindle or if you have never read an ebook before, don't fret. All you do is grab your smart-phone, iPad, or Computer – (Yes, any computer will do!). Go to Amazon.com, download the free Kindle app. Set up your Amazon account, and go to the Kindle store to get the book. Or you can click on the book link below and you will zoom over to Amazon  in seconds.

Here's what people are saying about the book:
"This book was right on time for me, as I had been finding it hard to smile lately with all the happenings of life. It's great that it is so down to earth, and so easy to read. While reading it, I could actually hear Dr Travelute speaking those words, in only the way she could. I loved the scripture quotes, and will use them often. Never thought of distraction as a way to ease the pain. Great book by an awesome woman of GOD! Everyone can benefit by the encouragement and hope written on the pages of this book. Thanks!" – Rob

"Dr. Linda Travelute has written a wonderful resource for anyone struggling with depression or the pains and hardships of this world. I can personally testify that by meditating on God's Word, you will become "distracted" from life's problems. A great read to recommend to family and friends, and as Pastor Linda reminds me after every conversation, dig into the Word everyday and let it move you! Well done Pastor Linda!" – Wammons

"Don't let the length of this book fool you- Dr. Travelute reveals in 27 pages what people spend years in therapy trying to discover. She gives two key ways how someone who is going through a hard situation can successfully make it to the other side with a smile on their face. The scriptures Dr. Travelute offers for meditation are incredible resources. This is a go-to manual for anyone who is navigating a hard situation to use to find peace and live in victory. If you're facing a mountain, experiencing depression, or wondering how to cope with life's curve balls, sit down with this book for 30 minutes, put her words into practice, and see what happens in your life as a result."  – Singingintheshadow
This book was designed for people who don't have time to read lengthy full sized books. In just a fraction of the time, you will have all you need to know to get that smile back on your face when life is difficult. Click now, your smile is waiting!
Dig in!
Dr. Linda Travelute