Are you reversing the prayers you've been praying in faith?
Don't be too quick to answer!
Seriously…Most of us say things that totally make our prayers boomerang back to earth. And not just when you're praying. You say things in conversation with others, and even little comments to yourself – that can break your prayers.
What kinds of things?
It's all broken down in Dr. Linda's message called, "Say What You Want to See".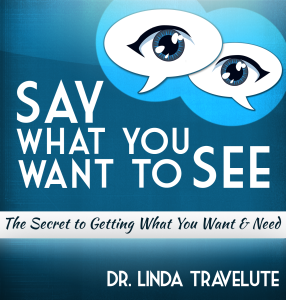 Learn what to say and what NOT to say to get the things you desperately desire and need in life.
In this fun, fast moving message, Dr. Linda gives you the key to making mountains move out of your way so you can see results.
Whether you need healing, restoration, finances, or hope…grab this truth and you'll have your prayers answered every time. This is your game changer. Get your copy of this message, Say What You Want To See Mp3 today!
Yes, I Want to Download it now!
Easy to access & listen on your smartphone, Mp3 player, tablet, or computer.
What others are saying about the "Say What You Want to See" Message:
"It totally changed my thinking. Loved the message!" – Nery Figueroa

"What a great message, I kind of feel like a new person. Just by being positive and saying what I want. Thanks Dr. Linda! – Michelle Santiago-Robles
"Thank you Jesus for this amazing teaching :-)" – Daisy Rodriguez
"Just wrapped a Powerful Service @COLChurch with Dr Linda Travelute! Such an empowering service, Our Words Shape out World!! What are you confessing?!" – Adrian Vega
For less than a burger and fries, this message will help you get everything you want and need for just $7.97

Get Instant Access to the Mp3 now for $7.97
And Yes, It's GUARANTEED!
In the next 30 days, if you don't find that this message helps you, encourages you, and inspires you, and helps you get everything you need, you'll get your money back – every penny. NO questions asked.
Let's do this!
Dr. Linda