Want a Way to Raise Your Company's Leadership Lid?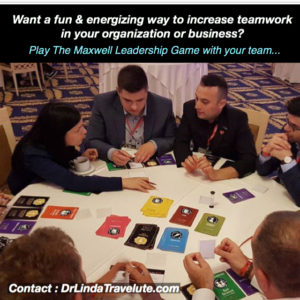 Typical Playing Time: 2 Hrs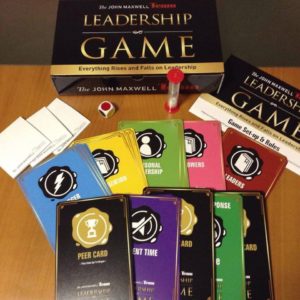 Includes Post Game Executive Summary
Test your grasp of everyday leadership values and practices.
47%
Engage in open discussions with your team in relaxed setting.
87%
Discover ways to strengthen your team
95%
Play the Maxwell Leadership Game and You'll Receive:
A fun, yet challenging team building experience that will help your team connect.
Helps organizations improve their leadership intelligence so they can increase their effectiveness – so they're doing more and being more.
Introduces and reinforces timeless leadership principles that will bring positive change and uplevel their ability to lead.
Engages open discussions in a relaxed setting which ramps up your team's communication and connection!
Under the radar diagnostic tool that helps access gaps in leadership skills and teamwork.
The John Maxwell Team Leadership Game is a comprehensive game based on the teachings of John C. Maxwell. The game helps organizations improve their effectiveness. Why? "Because everything rises and falls on leadership." says Maxwell.
These leadership principles carry consequences with them. Apply the laws in your organization and increase your influence. Violate and ignore them, and your ability to lead others will suffer. BUT…every one of the laws can be learned. How? Play the game with 6-12 of your most influential leaders and find out! Typical
Typical game play time: 2 hours
Includes Executive Summary written by Dr. Linda and submitted to your company's leadership – identifying leadership, communication, and team strengths, weaknesses, and gaps.
Great idea for retreats, board meetings, and team-building activities.
Here's what Leadership Game players are saying:
"I had the privilege of playing the Leadership game twice in the last year. Two things learned are that we are leaders in every aspect of life. Others are always watching. The other is that what others see in us may not be what we see. I felt inspired, encouraged and empowered to be more."   
-Nancy King, Senior Sales Director, Mary Kay Cosmetics
"Going into this game I did not know what to expect, but as it turns out I was super impressed with it and can't wait to play it again. This game helped our team recognize our personal strengths and weaknesses, but most importantly it helped us get to know each other on a higher personal level. We even had some of our members walk out of the game feeling like they needed to invest more in their education and themselves to grow as individuals. Overall, I would say it was a great game!"
-Ricardo Benavides, Broker and Owner of Big Realty
"This is a great leadership tool which helps you identify your team's strong points and where you can use them to make your team stronger. It also teaches you to identify improvements, so you can reach higher.  All this, while having fun!" 
-Leadership Game participant in Romania with John Maxwell Team Member, Marius Darie