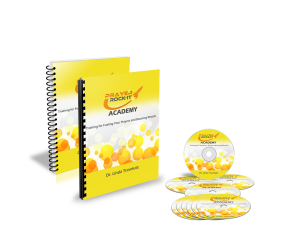 Now you can belong to an elite group of believers who get outstanding results when they pray!  Be trained with Prayer Rock-It Academy to fuel your prayers and boost results.
Prayer Rock-It Academy will train you to:
Learn a quick and easy prayer system that makes your prayer life more effective.
Pray powerful, potent prayers that get you the edge you need in life.
Learn to construct prayers that end your pain and help you accomplish your dreams.
Discover keys to hyperlinking your prayers to scripture.
Grab a model that shows you what to say when you pray and what not to say when you pray.
Enforce your God-given authority to end your struggles & live life in overflowing favor.
Receive everything Christ's death has provided for you – NOW!
With Prayer Rock-It Academy you will receive:
10 Audio Training Modules (Go at your own pace)
The Prayer Rock-It Academy Hands-On Workbook
The Exclusive Prayer Rock-It Journal
Plus…BONUSES
BONUS #1: 200 Prayer Rock-It Topical Prayer Boosters ($20 value, yours free)
BONUS #2: The book, "Grabbing God's Attention the Art of Praying Like a Pro" ($10 value, yours free)
BONUS #3: 2 Personally recorded "Build-a-Prayer Grams" for your specific situation (Part of my private life coaching pack valued at $50, yours free)
You'll receive $400 worth of product for only $249 – that's a savings of over $150.  So don't delay – pre-order Prayer Rock-It Academy (release date February 2014) by clicking here NOW!
Copyright 2013, 2014 DrLindaTravelute.com