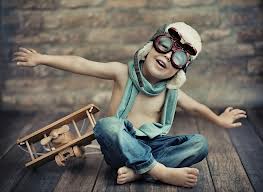 As I was getting ready this morning my mind floated back to a care-free childhood. Ahhh, those were the days. Rest came easy. Not a care in the world. I had complete and total trust in my parents. They took care of my every need. I had a roof over my head, a really nice one (with biggest yard on the block!), nice clothes, plenty of toys, and lots of love from mom, dad, and my little bro. That was the life.
But then it ended.
It ended when I grew older and started "seeing".
Seeing. It can cause us problems we didn't have before we could see.
See what? See that my parents really didn't have it all together. And that yes, there were times they walked through financial hardship and were smothered with stress. It's just that as a kid, I had no clue. No clue meant it didn't rock my little world. I continued to believe blindly therefore I was at rest.
Something happens when we begin to "see". We stop believing in what the the Word of God says because we begin to "see" what circumstances say.
IRS: You owe the government money.
Word of God: God shall supply your every need. (See Phillipians 4:9)
Boss: You've made a mess out of this.
Word of God: Anything is possible for those who believe. (See Mark 9:23)
Doctor: You have an incurable illness.
Word of God: You have been healed. (see Isaiah 53:5)
Spouse: I don't love you. I want a divorce.
Word of God: With God, anything is possible. (see Matthew 19:26)
Now, let's connect this to my story. Regardless of my circumstances, I believed in my parent's ability to provide for me and this gave me great peace. I went to bed every night completely confident that all was well. And it was simply because I believed.
Belief will help you rest easy.
It didn't matter that my parents didn't always have everything we needed. I believed they did, therefore I was able to rest.
There's the key to resting like a child. Believe that you are taken care of and you will be at rest. It didn't matter that they couldn't always make ends meet. I thought they could. Therefore my reality was trust. And trust led to rest.
Now, imagine this scenario…
You really do have a heavenly father that has it all together. He owns everything on the planet. Nothing is out of his reach. He could slap a million bucks on you right now if he wanted to. There's no need to worry. He has an unlimited supply.
So, then – we have a lot more to believe in, don't we? Knowing God won't fail us gives us even greater belief. And if you believe, you will rest. Rest in him. He really does have it all in the palm of his hand. You included.
The Word of God says: "Anything is possible for those who believe". Not: "Anything is possible for those who see". In fact sometimes the more you see, the less you believe.
Close your eyes.
Believe & you'll rest.