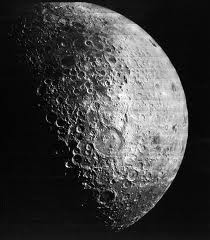 Next time there is a full moon, take a peek and notice her splendor. I guarantee she'll knock your socks off if you give her a glance!
Have you ever thought about what the moon does? It generates no light. But baby, it shines!
Apart from the sun, the moon is nothing more than a dark black, marked-up rock. BUT, when it's properly positioned, the moon beams. Let her do what she was made to do, and a clod of dirt becomes a source of illumination & inspiration. All that happens when the moon reflects the greater light, the sun.
I bring this up because that's what you and I can do. But it only happens when we are in the right position to the Son -The Son of God. When in position, we become a source of illumination, and inspiration.
Look how the Bible explains it…
2 Corinthians 3:18 says, "All of us can see and reflect the glory of the Lord. And the Lord—who is the Spirit—makes us more and more like him as we are changed into his glorious image."
What is so cool is that you don't have to be perfect, you just have to be in position. Like the moon, you have marks–don't we all! But you can still reflect the light.
You can have habits you are still trying to kick… But over the years you can change more and more. And as you do, you reflect Gods glory more and more.
The Bible says, we are changed from glory to glory. Know what that means? The more and more we act like God, the more and more we look like God. And that brings God glory!
To make this happen, it takes guts! Let me ask you, do you have enough guts to bring God glory?
No Guts, No Glory
You've heard the phrase, "No guts, no glory." That is so true. If you don't have the guts to impact someone's life, then God gets no glory.
I failed to have guts one time. I was at Tropi Grill, there was a lady sitting there. She was minding her own business, eating her Tropi chops. I wanted to mind my own business and eat my Tropi chops. But guess what? God wanted me to speak to her. He said, "Just tell her I love her." That's it. Just one line. I didn't want to.
He said again, "All I want you to do is tell her I love her. That's it." So I'm sitting there arguing with God, saying things like, "I don't feel like it, I'm too tired, I'm too hungry."
I thought, What if this is the devil telling me to do this? Then God said, "Do you actually think the devil would ask you to tell someone God loves them?" Hmm, probably not!
What I learned is that even if it's not God's voice, but it's a good thing, just do it anyway, cause 9 times out of 10 it is God's voice.
Because I sat there so long, the lady got up and left. I lost my chance.
Because I didn't have the guts, God didn't get the glory.
The Message says in Ephesians 5:1

Watch what God does, and then you do it, like children who learn proper behavior from their parents. Mostly what God does is love you. Keep company with Him and learn a life of love. Love like God does.
Any way you can love on someone – brings Glory to God because when you do these things – you look like God. It points people to Him. It brings Him glory.
You don't have to be perfect to bring God glory. You just have to have guts!
Get gutsy, so you too, can glorify God!
Let us know how you have been gutsy enough to bring God glory. Hit up the comment section. Thanks!