It's tempting isn't it? Looking at someone and wondering just how well you measure up to them. Hair, appearance, size, position, talent, wealth, education, intellect, athletic prowess, people skills. The list is deep and it also goes wide. There's no end when comparing yourself to the girl or guy next door. And if you do, let me tell you, you lose! Read on and I'll explain. I'll also show you how you can STOP comparing yourself to others. Let's go!
When Walt Disney was a young school boy, his teacher saw him drawing pictures of flowers. She said, "They're very nice Walter but don't you know, flowers don't have faces." He looked up and said, "Mine do." I love that! Even as a small boy, Walt Disney had the guts to stick up for who he was. He was true to himself. He did his own thing. And that's probably one
of the reasons why he was so successful. He didn't let anybody cramp his style.
Oh, but you do let people cramp your style, don't you? I betcha just recently you were feeling pressured or feeling badly about yourself because you were not like someone else. You were deciding you don't fit someone else's image of who you should be. Have I got your number?
When you do either of these two things above, you miss out on who YOU are supposed to be! And that is so dangerous because you get the WRONG IDEA of who you're supposed to be. You become confused and don't know who you are.
When you compare yourself to others you get the wrong idea of who you're supposed to be. You become confused and don't know who you are.
There's a story about a farm boy that I read in one of Chuck Swindoll's books, who found an eagle's nest with an egg in it. He took the egg from the nest, and when he got home, he put it under a hen along with her other eggs.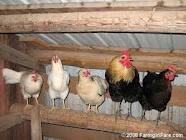 Since the eagle's egg hatched among chicks, the eagle thought he was a chicken. He learned chicken behavior from his "mother" and scratched in the chicken yard along with his "siblings". He didn't know any better. And when he sometimes felt strange stirrings within him, thoughts, like hmm, "I think I walk a little different from the rest of the crowd," or "I seem to have longer wings than everybody else" – he ignored those thoughts. When he began to realize he had different qualities and was different from the rest, he buried those thoughts too. After all, when he looked around him all he saw were chickens, so he thought he must behave like a chicken. Talk about pressure!
But then one day an eagle flew over the farm. The chicken yard eagle looked up and saw him. In that moment, he realized he had the same kind of stuff that that eagle did. He wanted to fly high. He wanted to go to the mountain peaks he saw in the distance. So he spread his wings, which were much larger and stronger than those of his siblings. Suddenly he understood that he was different. He was an eagle. He was meant to fly.
Though he had never flown before, he possessed the instinct and the capabilities. He spread his wings once more and he took off. He soared high…because he stopped looking around him. He finally discovered his true self.
How sad it would have been for him to continue comparing himself to the other chickens, never measuring up. And why would that be sad?
Because he wasn't a chicken. He could never measure up and wasn't supposed to!
He couldn't walk like the chickens, he couldn't cluck like the chickens. Hello? It's because he wasn't a chicken! And that could have left him down and discouraged thinking he wasn't good enough.
You may be going through life comparing yourself to others. You're feeling worthless and not good enough because you don't walk like others, talk like others, and do things like others. Look, you're not supposed to be like others.
You can't fly like an eagle if your stuck on the ground trying to be like the other chickens! So, here's how to get off the ground:
1. Make a List of Your Greatest Attributes & Abilities
This may sound silly, even cocky if you don't know where I'm coming from with this, but reserve judgment till you get what I'm about to share with you. I remember driving down the road when I was 16 years old, listing all of my greatness. Now, don't let that fool you. I wasn't conceited or stuck on myself or anything like that. After giving myself a honest evaluation, I made a mental list of my good stuff. Great stuff. Because inside of everyone of us is great stuff. God made us with great stuff. You have greatness in you just like I do. You just have to see it. And when you do, you can make a list of your greatness too!
2. When you come up against thoughts of comparing – knock em down!
Resist the urge to measure yourself up against someone you see or that comes to mind. If you encounter Carey, an acquaintance in the shoe department at Macy's, quit inspecting her outfit and trying to discover if those shoes are real Gucci stilettos. If they are, so what? You have bigger fish in your own frying pan. Look deep. Greatness is there. If you walk by Bill in the break room, don't think, "If I were only as tall as him." Stop it! Don't let your mind go there! Let it go here: back to your list of your Greatest Attributes & Abilities. 
Focus on your Greatness. Soon you will see you have no reason to compare.
The more you see the great attributes and abilities that God has built into you, the less you will have need to measure them against someone elses.
Galations 6:4 says this:

"Let everyone be sure that he is doing his very best, for then he will have the personal satisfaction of work well done, and won't need to compare himself with someone else."
List your greatness and you'll no longer need to compare! 
Did this hit home with you? Do you have any input or advice to add? Leave a reply. Thanks!