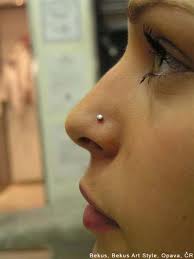 Just for kicks, I asked my teenage kids what they thought of me getting a nose ring. I'm not talking a hoop or anything like that protruding from my nose in an awkward fashion. Just a tiny diamond stud. You know, something tiny yet with a bit of dazzle.

My daughter was the first to speak up. She's 14 but declares she is the Ann Landers of her generation. She said very sweetly, "Mom, I don't want to hurt your feelings but you are too old for a nose ring. You have too many wrinkles." Ouch. Not so sure why she equates wrinkles with non-nose ring wear, but ok! I took her thoughts to heart. Then I decided to get the opinions of a few others. 56 others to be exact.

Yes, within 2 hours, 56 people had responded to my Facebook post.

This is what I put out there:

"My daughter says that being 43 automatically disqualifies me from getting a nose ring! Your thoughts?"

Oh my! The responses ranged from, "Yes, "go for it!" to, "You're too cool or beautiful and that would ruin you!"

Ruin me?! Really?!

Here's the decision I made and why it can help you when you are up against making the right decision verses the wrong one.

1. Help People Trust You

First impressions shouldn't really matter, but they do. So in an age where people look on outward appearance instead of the heart, we have to help them trust us. That may mean foregoing a freedom or fashion statement in order to win their confidence and trust. That's not how it should be. But that's how it is. I'm not saying it's right or fair. But that's reality. People judge based on appearance.

My rule has always been this:

Form a light-first impression based on the outward, but always be prepared to change your view of someone based on what you learn about them. The more interaction you have with someone, the more you get to know him or her. First impressions can be right, but they can also be very very wrong. Sometimes it takes years to really know someone.

Unfortunately, not everyone plays by my rules. So here's what else I recommend:

2. Remember Who You Are And What That Stands For

I am a pastor and I take my role as a pastor very seriously. I am also a professional counselor. I don't know many PhD's with nose rings. (Maybe I just haven't met the right ones yet!) But my thought is this; if I had to connect with an ultra conservative group, or mingle in a professional one, would the nose ring keep me from being heard? Or would people discount what I have to offer because of that stud in my nose? Sadly, yes.

Yes, it's ok for me to get a nose ring. But it's even better not to right now so that nothing stands in the way of touching someone's life. I want to be more thoughtful. In your realm or arena, it might be perfectly acceptable for you to done a nose ring. If so, I'm glad you get to have one. For me, right now, it's probably not the best idea.

I have decided to give up freedoms that I rightfully have in order to connect with and be accepted by others. If having a nose ring would in any way keep me from being a blessing to others because they may not be able to get past the jewelry in my nose, then I will give up my right to have a nose ring.

I don't want my freedom to cause anyone to stumble. And how would they stumble? By not accepting me based on my outward appearance. (Romans 14 has some darn good stuff about this. Check it out.)

So, at this point in my life, no nose ring! Maybe when nose rings become more accepted, just like women wearing pants has become more accepted since the 1940's, I might just go for it! But not until I know it won't keep others from connecting with me. Their bad, I know! But my heart to serve them overrides their bad in making an unfair judgment. 

What rights are you willing to give up in order to reach more people? I'm thinking that's more important. Call me crazy? Chime in. I'd love to hear what you think in the comment section.