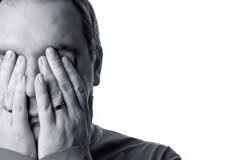 Many years ago a man conned his way into an orchestra although he could not play a note.  He would hold his flute against his lips, pretend to play but not make a sound. Then one day the leader requested a solo from each musician.
The man was panic-stricken.
On the day of his solo performance, he took poison and killed himself.
The explanation of his suicide led to a phrase that found its way into the English language:  "He refused to face the music."
My question for you is simply this: 

Are you afraid to face the music?
Or, maybe I could ask… Are you panic-stricken?
Believers are killing themselves, in every area of their lives, simply because they refuse to face the music.
Don't be one of them.
See, there are Christian believers dying of cancer. They are loosing their homes. They are busting up their marriages. Simply because they won't stand and take their God given authority and face the music. They'd rather roll over and die. They are poisoning themselves with the lies of the enemy.
If this is you…if the devil is eating your lunch or hey, maybe he's eating you…
Face the music.
How?
Grab your Bible, get reading, and start saying the things you read.

Yes, it's simple. Say what you read. Just like when you were in school. Pretend if it helps, that you are in your little oral reading group. Read. Out loud. Listen to what you are reading.
Read your Bible till it gets down into your spirit and you start believing it. Read your Bible so the devil knows your getting a dose of truth to tackle his lies.
Get Your Facts Straight:
You do not have to die of cancer. You do not need to lose your home. Your marriage doesn't have to bust up. You're going to get this figured out. God's going to help you. You're a conqueror. Start acting like one.
Conquerors face the music.
Yet amid all these things we are more than conquerors and gain a surpassing victory through Him Who loved us.
As you read God's promises out loud, it will put confidence in your spirit, fear in the enemy, and you will see things change. 
For example, take the scripture above. Read it out loud. Go ahead. I'll wait.
…Did you read it? Good. Now, make that scripture personal. Like this: "Yet amid all these things, I am more than a conqueror and I am gaining a surpassing victory through Him Who loves me." Nice, huh?
Read it again. No joke. Read it out loud. Again. And again. Read it until you memorize it. Repeat it. Think it. Repeat it again.
Get a little crazy and write it on a post-it note or index card and tape it to your mirror. Say it every time you go to the bathroom. Out loud. Every-time. Why?
Because sooner or later you're going to begin to believe it. And when you do, you'll see things change.
Ready?
I know you are. Get out there and face the music.
I'm rooting for ya!