Ever feel like God has left the building? 
Elvis may have, but God, NO! If you need a little help believing he is ALWAYS there for you, let me tell you – you will never go where God is not!
I just got back from vacationing in Daytona Beach where I played a mean game of laser tag with my two teenagers and my husband.
What a blast! If you've never played, it goes like this… you get suited up with a vest that has 4 targets on the front and four on the back. Yes, you become the target! You also get a gun strapped to your side that yelps out a series of beeps or blasts letting you know when you have been hit or better yet, if you have succeeded in taking someone down. Your playing field is a dark room with a maze of barriers and walls to hide behind when someone tries to shoot you.
Every Man for Himself
The bullets fly through the air like red laser beams. When you're hit, your gun shuts down for 10 seconds. Cruel, eh? It's every man for himself as you try to hit as many people as you can. You have 9 minutes to see how many points you can rack up. The pressure is on!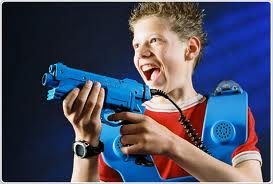 So as we are playing, this 13-year-old kid comes up beside me and says, "Hey, want to join my team?" I was like, "Well, I was doing just fine on my own, but I'll humor you!" He said, "Cool, come over here and hide behind this wall with me." Then he introduces me to two teenage girls and says, "Ok, we're all on the same team. DON'T hit each other! I got your back, you get mine. We good?" We all nodded our heads. "Ok, let's go!" So here I am, letting this 13-year-old give me marching orders. But the cool thing is this – he was also trying to protect me. (Like I needed it! Ha!)
My son comes rushing at me and flings a truckload of laser bullets my way. This other kid jumps in front of me like a ninja, and takes a bullet for me! "Wow dude, thanks!" Then my husband comes around the corner and says, "Hey, you down?" I said, "Nope, got my own little bodyguard here!" The kid looks at me and says, "Is that your husband?" I said, "Yep."  He shouted, "So, I took a bullet for you and your married?!" I'm like, "Yes! You didn't say I couldn't be married and be on your team!" Too Cute!
He would not leave me alone! I really wanted to lose the kid, because in laser tag it's every man for himself so you can rack up the most points. Being that I was on a team with 3 other people meant there were 3 less people I could shoot for points. But this kid was not leaving my side!
He was like a little Jesus. He would NOT leave me alone! That joker was glued to me. Yep, this 43 year old woman. Why? I don't know! It's not like I needed his help. Or maybe I did and didn't know it! Another similarity between Christ and us. Sometimes we think we can do better going it alone. He wants to be there for us.
Either way, if you have Christ, it's NEVER every man for himself. Just won't happen. Never, never, ever will He leave you. That's good to know.
When God says, in Hebrews 13:5,  "I will never leave you nor forsake you," a "double negative" is used to convey thesense of "never" possible in the Greek language. The Greek words mean, "never never" or "never ever." And this double negative appears twice in this one statement from the Lord. It is used for both "never" and "nor." In other words, God is saying, "I will never never leave you and I will never never forsake you!"
The Amplified Bible brings out the strength of what God really meant: I will not in any way fail you nor give you up nor leave you without support. [I will] not, [I will] not, [I will] not in any degree leave you helpless nor forsake nor let [you] down (relax My hold on you)! [Assuredly not!] —Hebrews 13:5, AMP
You cannot evaluate God's presence in your life based on your circumstances. Never means never…He will never, never, never leave you alone.
You may be moved, removed, reassigned, enlisted, but you will never go where God is not.
Enjoy the presence of your bodyguard today, cause He's not going anywhere without you!
Do you have a comment or a story of how God has always been at your side? Share it here in the comment section.