Faith. If you've got it… it pleases God. If you don't…well, let's just say your dead in the water. When it comes to your strength as a Christian, the most important ingredient is faith. So if you feel a little "stuck" in the faith department, look no further. I'm going to show you a way to understand what faith is and how you can get more of it.
I was reading the most quoted verse in the Bible on faith, Hebrews 11:1. And to be honest, this is a hard verse to swallow. Come on, God's asking us to believe in something we can't see. Trust, sometimes when there's no evidence. And stay hopeful in the midst of desperate times. Not easy, is it?
In order to make the verse easier to digest, I picked it apart. Word by word. Line by line. I wanted to figure it out. So here's what I did with this famous verse on faith – I used a mindmaping app on my iPad to diagram it. I'm sharing the diagram and my results with you.
Picking this verse apart gave me a fresh new way to look at faith. My faith is stronger and I have a better idea of the kind of faith God wants me to have. Take a peek at the diagram by clicking below, it'll help you get a better grip on your faith too. (Oh, and be sure to look all the way down to the blue cloud on the bottom…it's the clincher!)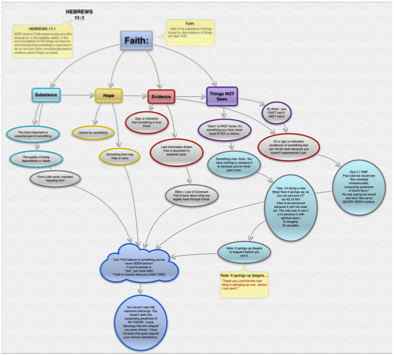 Click here.
The next time you get stuck on a verse and it just doesn't make sense, try diagraming it. Picking it apart word by word is a great tool. Kinda like taking one bite of the Bible at a time. Your faith will ramp up and you'll add a little spice to your Bible reading time. Enjoy!