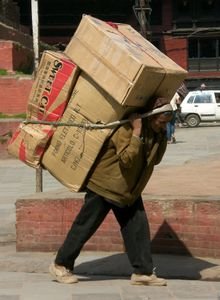 How heavy is the load you're carrying?
Let me show you how to give God your heavy load and grab a lighter one instead.
When I was VERY pregnant, I'm talking hugely pregnant, going to the grocery store was a burden!
Pushing a cartload of groceries was hard work considering I was also carrying an extra 50lbs of fluids and baby.There was this one day in my ninth month of pregnancy that I will remember forever. I was bringing the groceries in from the car to the house. Knowing this was going to be a huge task, I popped the trunk and started plotting my strategy.
I was grabbing all of the heavy bags first so that I could come back and get the lighter bags.
Huffing and puffing, I made my way to the door with the two heaviest bags. Then out of the corner of my eye I saw my husband come around and I thought, "Cool, he's going to help me!"Here's my knight and shining armor to the rescue! Not so fast. What he did ticked me off! He went for all the light grocery bags like the napkins, paper towels, and toilet paper. What a stinker!
As you can imagine I am burning with anger and raging hormones. But what he did next surprised me. When he met me halfway, he said, "Stop, you take these lighter bags and let me take the heavy ones you have." At that moment I felt so much love in my heart for that man! We exchanged loads and I was immediately relieved.
You have a knight in shining armor at your disposal too. One who's ready to take your heavy load and give you a lighter one.
Jesus says in Matthew 11:28-30 (NCV)
Come to me, all of you who are tired and have heavy loads, and I will give you rest. Accept my teachings and learn from me, because I am gentle and humble in spirit, and you will find rest for your lives. The burden that I ask you to accept is easy; the load I give you to carry is light.
Jesus is more than willing to lighten your load but there's a catch. Here's what you need to do in order for this to happen:
You have to meet up with him in order to make the exchange. 
If you don't connect with him he can't take the heavy stuff off your hands. Then guess what?  You will be stuck carrying ALL the bags. No connection, no exchange. It's that simple. You can't exchange something with someone unless you make contact with them.
I know it's difficult to put on the breaks and stop when you are going a hundred miles an hour. You're carrying a lot of weight and have been for a while. And when you have been going at it non-stop for an extended period of time, it's so stinking hard to wind down. Even when you do try to take a break your adrenaline is still racing. You may be sitting down physically, but you're still running mentally!
So, how do you go about shifting into lower gear? If you are ready to hit your own little personal pause button so you and Jesus can make the exchange, this is how it works: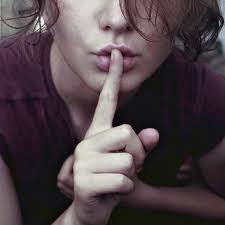 1. Get quiet. 
Get away from all the noise, people, and projects. Just pause. This is the only way you will quiet your soul enough to hear what God says. Let him speak to your inner man (or woman). As you do, He will refresh you. He will whisper things to you that you ache to hear. You can't hear a whisper in a noisy room, can you? Get quiet so you can hear what He has to say.
And what will this sound like? Encouraging words, strength for the journey, and enlightenment. Without this personal pause-time, life will be unfocused and scattered. Settle down until your soul settles.
2. Wait until He refreshes you. 
I know it's tough waiting for something. But don't be in such a hurry to rush off. Hang around in God's presence as long as you can. God has life giving stuff He wants to pour into you. Talk about an energy drink, this even tops coffee!
Remember what He said in the verse above, "accept my teachings and learn from me." This is where He helps you evaluate everything you have been doing. He will press meaning into your performance. And when needed, He'll show you a better way of going about your business that will ease the load. That's refreshing! And know, He will NEVER leave you to figure out your problems on your own. (For more on that, read this post: Ever Feel Like God Has Left the Building? Why You Are Never Alone. )
Ready for the chaos and the world to stop around you? Me too! Relief is on the way. But don't forget, we have to make contact with God in order to exchange our heavy load for His lighter one!