I get a lot of questions from you, my readers, asking about my favorite Bible study tools. Reading the Bible and having amazing tools at your disposal has never been easier with the invention of e-readers, tablets and smart-phones. This post gives you a list of my top electronic Bible study tools and apps with short descriptions and links so you can grab them for yourself.

You might find something here that will make your Bible reading more interesting and certainly more enjoyable. And you might find some sweet gift ideas (I have added Amazon links for your shopping pleasure.)

What I love about electronic devices is that they make reading your Bible more convenient and definitely more accessible than a hard copy of a Bible. Why wouldn't you want to make the switch? You do so with newspapers and magazines. You opt for email over regular mail. Why? It's faster and at your fingertips.

It's your option. You choose. I say, give it a shot; you can always go back to holding your Bible in your hand if you choose.

So without further ado, here's "My List of Top Electronic Bible Study Tools":

1. Amazon Kindle – As I have shared with you before, my Kindle is my FAVORITE Bible study tool. Before I had my kindle, I used to carry 5 different Bibles out to my reading chair every morning.

Imagine how that worked when I traveled! I spent a lot of extra money at the baggage counter because my suitcase was always over the weight limit. The only thing good about that was that it provided a good workout lifting and lugging!

Now my Kindle is all I need. I have 9 different Bible translations on it and countless devotional books. What I love about reading my Bible on my Kindle is that I can jump around to different passages by clicking or touching (I now have the Kindle Paperwhite which is touch screen) the hyperlinks within the biblical text.

With my Kindle Paperwhite, there's no more leafing through a big Bible when cross-referencing. And the search feature can't be beat. Trying to find a topic in scripture is easy with the Kindle, just enter the keyword in the search box and your Kindle will pull up the passages for you. If you're in the market for a Kindle Fire, it's a beautiful device that offers all of the features mentioned above in a tablet e-reader.

Not interested in a Kindle?

No sweat. Let's not forget, you don't need a Kindle to use the Kindle App. You can download it on your smartphone, tablet or computer giving you the option to purchase Bibles, devotional books, and Bible studies galore. You purchase them right from Amazon and read them in the Kindle app.

2. iPad – My second favorite Bible study tool. What I love about having an iPad and a Kindle is that Amazon has the Kindle app that you can grab for free and put it on your iPad and iPhone. With this you can read whatever books you have on your Kindle on your iPad or iPhone. So for Bible reading this is a gem.

When I'm out to lunch with a friend, I sometimes want to share a verse of scripture with them that I read that morning. So I go to the Bible I was reading in my Kindle that morning but I do it in the kindle app on my phone and it flawlessly syncs and goes right to the page and verse I was reading. Sweet!

3. Apps for Apple & Android Platforms:

There are tons of Bible related apps, which are available for both Apple and Android products. YouVersion is probably the most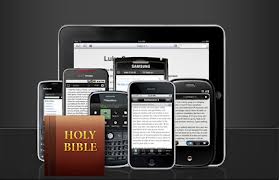 popular. I use it because it has a ton of Bible translations and the option to read two versions at once in parallel view. Here's a link to the YouVersion for Android users.
You can highlight, and copy in YouVersion. From there, tweet the verse you're reading or post it directly to Facebook and other social media apps. You can email the link to someone as well, so it's got some great sharing features.
The YouVersion app also has reading plans. And plenty of them! From Joyce Meyer to C.S. Lewis. And love this feature or hate it – when you miss a bunch of reading days in a row, the app will gently remind you via email. No pressure, you can dismiss the reminders if they start to bug you.
There are many Bible reading apps available in iTunes or for Android users. I have the Olive Tree app, which is great if you want to import various Bible versions into one app.
Or you can purchase stand-alone Bible version apps from Olive Tree. I have the both New Living Translation Application Bible App from Olive Tree and the Amplified Version Bible App from Olive Tree. I find myself going back and forth comparing both versions.
4. iPhone – Lots of people are using their phones to read the Word. It's great because you pretty much always have it with you. Stuck in a doctor's office, pull out your phone and read your Bible. Stuck in line at the grocery store? Pull out your phone and read your Bible. Stuck in traffic…well, maybe that's not such a good idea unless someone else is driving!
Other great iPhone and iPad Bible reading apps that I use:
If you're a Twitter fan, and you have a Kindle, you'll want to follow @GospelBooks. Why? Cause they let you know about FREE Christian Kindle Books you can scoop up. They'll tweet about free and discounted books everyday. Be sure to check their timeline regularly so you don't miss a steal or a deal.
So there's a list of my fav's. Hopefully you will find some great gems that will help you in your Bible reading and Christian growth. What are some of your favorite Bible study apps and tools? Share with us, we want to know.
If you've enjoyed this post, My List of Top Electronic Bible Study Tools, you will want to check this related article: Why I Made The Switch to Bible Reading On My Kindle.