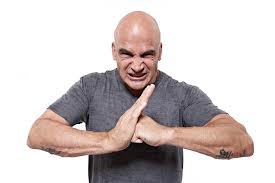 That devil…he's always trying to get one over on you, isn't he? Want to know the one instance where he has to pay you back? And not only pay you back, but pay you back in a BIG way?!
I was supposed to be flying out to Pennsylvania this week. This is the second week of September and on my calendar I have the dates of Sept. 12-15 blocked off to speak at a woman's conference. I was speaking Thurs, Fri, Sat, then at a church Sunday morning.
But guess what? It's not happening! And yes…I'm ticked!

It breaks my heart knowing that this church split. Yep, it fell apart. Some people went this way, some that way. The pastor is in a whirlwind and doesn't know what to do. My heart is breaking for those people. The devil is messing with them. And it saddens and maddens me.
Lives Were Going to Change

I know that God was going to do something amazing in the lives of the women who were going to attend that conference. Those who are sick and tired of life, as they know it, were going to experience a heap of hope.
They were going to receive a freshening of God's Spirit to conquer the challenges in their lives. They were going to discover how to get out of their ruts.
My team and I planned it over a year ago. Stage props were constructed, decorations were purchased, power points were created, powerful messages prepped…all for nothing.
Are you feeling my pain?
I'm sure you are. I bet you've experienced changes in your calendar, or plans that have dropped. You too have experienced something stolen, something taken, and something eaten right out of your hand. You too, have seen things that made your heart ache when the devil messed with your stuff.
But I want to show you that it ain't over!
First, you have to know, this is so fun for the devil – trying to wreck havoc in your life:
John 10:10 NIV:The thief comes only to steal and kill and destroy; I have come that they may have life, and have it to the full.
The Bible tells us that it's the enemy's intention to steal from us. But, if you know what you're entitled to, you can make him pay you back. And here is where it gets fun for us…because when a thief steals…
Proverbs 6:31 NLTBut if he is caught, he must pay back seven times what he stole…
Catch Him

Did you catch that? You have to catch him. He only pays you back if you catch him. So, wake up…it's not that you've been diagnosed with cancer like millions of others…it didn't just happen. The enemy is trying to steal your life. It's not that you and your spouse just got a divorce; the enemy stole your marriage from you. Are you tracking me?
Make Him Pay You Back

Know what I've been doing for the past week? Telling the devil what he's got to do for me. I've been reminding him of this scripture. I've been quoting it so he knows I know what I'm entitled to.
I'm entitled to have Satan replace that one speaking engagement that he stole with seven more! It's mine. The Bible says so. And guess what? Satan is at work right now creating opportunities for me to speak and change lives. How cool is that?!
Let the Enemy Know – That You Know

If you've had something stolen from you, let him know, you know, it ain't over! You're entitled to get paid back. Not just once either. Seven times. That's right – you take what you lost – and you multiply it by SEVEN. Hear me? Go for it!
What You Lost X's 7

Here's what I'd like for you to do. Email me and let me know what the devil is going to pay back in your life x's 7!!! Here's my personal email address: @Drlinda@lindatravelute.com. I can't wait to hear about what he's got to do for you! And I'm going to pray along with you that he restores everything he's taken from you…and more!
And, if you'd like to help me get one up on the devil and give him a one-two punch he wasn't expecting…help me fill my calendar with more speaking dates. I've got a message that will help people kick their faith into high gear and give them hope for their mess.
Help me not only recover that one speaking engagement but gain seven more! We can be in this together.
Here's how you can help:
1. Post this video (LINK) on your facebook, twitter, and other social media outlets: http://youtu.be/o1cnnVoHObA
2. Email this video to your pastor or event planner. You could simply cut and paste this: I know this amazing speaker who has a knack for helping people get their soul's fit. She has a message of hope – helping people survive, revive, & thrive! She's Dr. Linda Travelute, she's an author and she's available to speak at church services, conferences, and retreats. Check out her short video and info on her website: http://lindatravelute.com/speaking/
Let's make him pay! Hope to see you soon!