Are You Using Your Words Like This…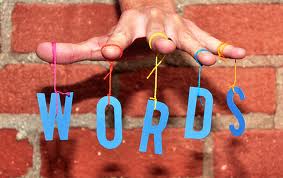 Tyler, my 19-year-old son just came in from a run. He's a tall guy, 6 foot, 4 inches and wears size 14 1/2 running shoes. Because he's a big guy with even bigger feet, not much shakes him. But he came in the house huffing and puffing. As he was catching his breath, he said, "I sure did a lot of sprinting today….cause I had a dog chasing me!
I asked him, did he catch you? He said, "No, he was about to, but when I realized he was faster than I was, I turned around, looked at him and…used my words!"
"What words did you say?"
"STOP!"
"So what did the dog do?"
"He stopped. I didn't have to worry about him again. He stayed put."
That's one smart guy! Why? Because Tyler's been taught to say what he wants to see. He knows the power of words. And that's because he knows his words have authority.
Authority, you might ask? Yes, Tyler knows he's been given authority over things on this earth. And he's not alone. If you're a believer in Christ, you do too. You have authority.
Where does this authority come from?
Jesus Christ. His father, God, gave him authority and he's passed it on to us.
Ephesians  1:19-22 NLT

I also pray that you will understand the incredible greatness of God's power for us who believe him. This is the same mighty power that raised Christ from the dead and seated him in the place of honor at God's right hand in the heavenly realms. Now he is far above any ruler or authority or power or leader or anything else—not only in this world but also in the world to come. God has put all things under the authority of Christ and has made him head over all things.

Ephesians 2:6 NLT

For he raised us from the dead along with Christ and seated us with him in the heavenly realms because we are united with Christ Jesus.
You and I, Tyler and every believer out there have the same authority, if we choose to use it. We are sitting in the place of authority.
How do you use it? Like Tyler did…
Use your words!
Tyler wanted to see that dog stop. So that's what he said: "Stop!"
Using Your Words…
What do you want to stop? A divorce? A debt? A sickness? Open your mouth and say what you want to see.
Instead of talking about your bleak future, start using your words: "I am finding my purpose, everything I do is a success. I have hope because of Christ."
Instead of complaining about a broken relationship, start using your words: "This relationship is being healed, it will be better than ever. God is helping us to mend the hurts."
Instead of staring at your empty bank account. Start using your words: "Money is coming into my accounts. God is showing me how to prosper and be a success. I have more than enough to meet my needs and to help others."
Want to stop the beast from nipping at your heals like that dog did to Tyler?
Use your words!
If you've enjoyed this post and it has inspired you to use your words, pass it on to a friend. Use the social media buttons for easy sharing! They'll thank you!