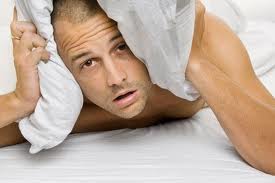 I was lying in bed last night, eyes shut, but not asleep. You too? Did we have too much on our mind? Probably. Usually when we can't fall asleep it's because something is bugging us. We may not even realize it lurking under the surface. Let me show you how you can sleep peacefully, even when your life isn't in perfect condition.
Whatever bugs us steals our peace. If you want a way to get to sleep, give this a shot. It works. After I did this, I slept through the night. Here's my million-dollar advice to grab a good night's rest:
Thank your way to sleep.

Huh?
Yeah, forget counting sheep. Count your blessings. Remember that old song…"Count your blessings, name them one by one…"
Why do this when you're trying to fall asleep? Because when you do, you'll see what The Lord has done.
Now, how's that going to put you to sleep? Because, it will put you in peace.
When you focus on The Lord, and what he's done for you and others, the natural by product is peace.
Many people over the years have asked me to pray that they will have peace when they are faced with a big hairy ordeal or a whammy of a problem. And hey, I can ask God to give them peace till they're blue in the face, but they won't get peace unless they do what God tells them to do to get peace.
What do we have to do for peace to settle upon us like a warm comfy blanket?
Focus baby. Focus!
On what? Focus on God. And one of the best ways to do that is to focus on what he's given you.
You will keep in perfect peace all who trust in you, all whose thoughts are fixed on you! Isa 26:3 NLT
And what do you do when you would rather NOT focus on what God's given you –like when you're ticked off because he hasn't given you what you've been asking for? (Let's be real, we do that don't we? Myself included!)
Again, here's another piece of million-dollar advice: 

Force yourself to focus on past blessings. Yes, this is the only time I will suggest you look to the past! Look to years past (or just days past) so you can count your blessings – what The Lord has already done. Hey, even if you don't feel like it – just go with it – you want to sleep don't ya?!
This is how it looked for me last night:

God, thank you for that Starbucks coffee in my kitchen that I will thoroughly enjoy tomorrow morning (yep, my coffee is THAT high on my list.)
God, thank you for my health, I'm strong and in good shape.
And how I'm loving my Nike pink and black cross trainers, yay, God!
Thank you for the man that's snoring beside me, he is such a great guy and I'm so glad he's mine. (Yes, that man is my husband.)
Thank you for this marshmallow-like, memory foam mattress topper, which makes my bed so soft.
I'm so grateful for my two kids that love you and are on a mission to change the world.
Thank you, sweet Jesus that I have you.
I'm stoked about the project I completed today – thank you for your help.
Thank you for the speaking engagements that have been added to my calendar so I can bring hope to people all over the world.
See, I just kept rattling them off…no particular order…till I felt God's peace.
And that peace put me to sleep.

Give it a shot. Get over yourself. Get your thoughts on God. When you do, you will experience his peace falling on you like the warmth of a summer breeze.
Ahhh, nice huh?
I could go into all the boring details about what happens in your brain when you start recounting things for which you are thankful. But just know that focusing on things that you appreciate releases chemicals that will make you feel at peace and sleepy. Ok, physiology lesson over. (Isn't God smart?!)
Now go to sleep. 🙂
Email me and let me know how this works for you. I'm just a few keystrokes away: DrLinda@lindatravelute.com.