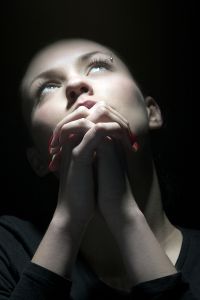 Over the years I've heard people describe desert-like experiences with God. They go on explaining their state by saying they, "Just can't pray." Well, what's that all about? It means something is blocking them from connecting with God. Secretly they might even blame God for the disconnect. He's the problem, right? He doesn't want to hear their prayers.

Maybe that's you too. Are you feeling like He's…um, out to lunch? Or maybe hitting up Starbucks and He'd rather catch up with you later? Your prayers are getting hijacked. Something is blocking heaven, right? No, wait up. That something blocking your prayers is you!

It's not God who doesn't want to talk, it's you, who doesn't want to talk with God.

I've come to realize that when someone says they can't pray, it really means they WON'T pray.

God says His ears are open to the prayers of the righteous. His ears are attentive to their cries. So don't go telling me God's the problem. Read it for yourself in 1 Peter 3:12.

We can audaciously and boldly get in His face. In Hebrews 4:16, the Bible says, "come boldly to the throne of our gracious God. There we will receive his mercy, and we will find grace to help us when we need it most."

So what's the REAL reason you can't pray?

1. Maybe You Don't Feel Worthy

If that's true for you, then get worthy!

All it takes is telling God how sorry you are for the things that aren't right in your life and you're on your way.
Acts 3:19 says, "Now it's time to change your ways! Turn to face God so he can wipe away your sins, pour out showers of blessing to refresh you, and send you the Messiah he prepared for you, namely, Jesus." (From the Message)
Ask for forgiveness. What are you waiting for? The ball's in your court. Spill it and soon you'll be in God's court.
2. Maybe You Don't Believe
Ahh, now that's a problem, isn't it? Why would you ask God for anything if you don't believe? You won't! So, let's fix that. This is nothing earth shattering here, but just ask God to help you believe.
I love the story in the Bible where the guy says to Jesus, "I do believe, but help me to believe more" Huh?! He believed but apparently it wasn't enough. Been there. Done that. What I did: I asked for more belief. Guess what? God delivered. He backed up a truckload of belief into my yard and started dumping. Little by little I believed more and more. Eventually I was waist deep in belief.
Do you need more belief? Ask God for it. No shame in that. And when you do, you too, will be ready for a face to face with God.
What other challenges have you faced in prayer? Leave your comments. Talk to you soon!
If you found this helpful, you might want to read this one:                  How to Handle It When God Doesn't Answer You