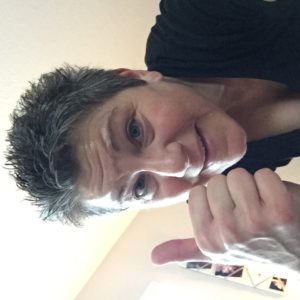 My kids.
They don't always get me.
In fact, they cringe at some of the pictures I post of them and me on social media.
Every-once in a while I get a text out of nowhere that says, "Mom PLEASE REMOVE THAT LAST POST!" And it's usually in ALL CAPS as if they are screaming or trying to emphasize with urgency that I will ruin their lives and mine if it stays up.
They have a set of social share standards…
They think I should be more careful to crop my pictures "just right" so they are ascetically pleasing.
They think I should use filters on my pictures so my skin tone looks more appealing.
They think every picture needs to pass their approval so I don't look bad nor make them look bad.
Guess what?
I don't give a rip.
That's why I purposely post pictures that are…real. Unedited. Not showing my best side, frequently featuring bad hair days….And yep, a few without makeup.
I don't have time to be concerned with looking perfect or getting the perfect shot. But there's more to it than that.
What's this got to do with leadership and personal development? Well, hang on. I'll show you.
Get the picture…
Successful leaders are often put on pedestals by people. To stay real and grounded, leaders need to get off that pedestal and stay with the people.
They do that by being honest and authentic.
Maybe that's why Mark Batterson, an author and the lead pastor of National Community Church in Washington, D.C., identifies authenticity as the new authority in leadership.
If you are a leader, your goal is to lift up your people, not have them lift you up.
If you allow others to put you on a pedestal or if you minimize your faults and accentuate your successes, you create what I call the Success Gap.
Success Gap
That's the perceived distance between successful people and those who are less successful. Inauthentic people enjoy that gap, protect their image, try to stay above the crowd, and, if anything, make the gap look even larger.
In contrast, authentic leaders work hard to close that gap. How?
They are open about their failures and shortcomings. They use self depreciating humor and laugh at themselves. When they are asked to speak, they prefer simple introductions, and they walk among the people and connect with them before and after their time onstage. They do everything they can to be themselves without pretense.
So how about you? Do you close the success gap, or try to close it?
Are you ok with people seeing the real you?
Are you ok with people knowing your not "all that"
Are you ok just being normal and imperfect in front of people?
If so, you're not only in good company…you're closing the success gap so your followers can catch up with you. And when they know that they can get to where you are because you've shown what you've achieved is not so out of reach…and they can do it too…you help them become more authentic leaders who change lives. They start believing they can be great leaders too.
So my encouragement to you… don't be afraid to look…Umm…not so hot. It's cool. If it's you.
I think I may start a new hash tag or campaign:
"Ugly selfies. It's what authentic leaders do."
#UglySelfies=AuthenticLeaders
What do you think? If you're game, post a selfie this week with this hashtag:
#UglySelfies=AuthenticLeaders – And be sure to tag me in it!
Connect with me:
Twitter: Linda Travelute
Let's be the real deal. Bold. Brave. Authentic leaders.
Closing the Success Gap,
Dr. Linda Travelute