Why do I prefer reading my Bible on my Kindle every morning rather than holding a bible in my hands? Yeah, I know, some say you just can't beat the experience of holding your Bible in your hot little hands. It just feels good…and holy…and right. It's by far the superior reading experience! Well, hold on and let me explain why I switched.
I thought I would have those very same thoughts. In fact, I had my Kindle for a week before I decided, this was crazy. Why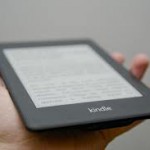 would I want to continue to tote 5 Bibles around with me or even just one when I can carry a 3 ounce Kindle and have all of my Bible translations at my beck and call? I was silly NOT to read my Bible on my Kindle. Before you get all nostalgic on me just let me offer some of the pluses.
Advantages to Using a Kindle for Bible Reading:
I have 9 different Bibles on my Kindle; this is by far, my greatest joy! Think about it, to have all of my Bibles on one small, thin, light device is perfect when I travel. I used to add at least 25 pounds to my suitcase toting my Bibles and books. Now, my Kindle slips into my backpack, briefcase, or purse and it's available anytime I need it. No more lugging books, commentaries, and study guides. I can research and study anytime I have a few minutes or when inspiration hits.
When I am in a meeting, I can pull out my findings or search for documentation without lugging books in my briefcase or backpack.
The search feature is by far quicker than trying to page through a big Bible. I type what I am looking for in the search area and my Kindle does the searching for me.
Searching for the notes I made is super sweet. Type in a keyword used in my note – and voila, my kindle takes me to that place. Much easier than looking for notes in the margins of my Bible.
On those rare occasions when I don't have my Kindle with me because I left home with just my iPad, my Kindle is still with me – just in a different format. My iPad Kindle app seamlessly syncs with my Kindle so I never lose my place. All of my notes, and bookmarks are available on both devices. Win-win!
On even rarer occasions when I don't have my iPad, my iPhone has guess what? Yep, my Kindle app too. And yes, all synced up and ready for reading. And because I always have my iPhone with the Kindle app with me, I always have my commentaries and notes. Whether I am in line at the grocery store, waiting at the doctor's office, or killing time before my next appointment my Kindle, in one of 3 forms, is with me.  Win-win-win again!
Highlighting on my Kindle is a breeze and want to know what's even breezier? Easily finding all of my highlighted passages in one place. They are all gathered together in a neat little file called "My Clippings" and I can also find the same file on my iPad, iPhone, or desktop. Flawlessly synced to boot! This is in addition to the text staying highlighted on any of my devices as I read.
Now, what about those who say, "Well, sooner or later you will forget the order the books of the Bible are in because you use the electronic version instead of searching through the hard copy of your Bible." To those I say, "SO?" Electronic devices aren't going away guys. So get with it. Nine times out of ten I am using an electronic device which allows me to page through the table of contents or even search for the book and chapter that I want. The need for memorizing the order of the books of the Bible, though still important, isn't as necessary. Do we still use our fingers to eat now that we have the invention of the fork at our disposal? I guess some still do, but that's their game. My point is – they don't have to.
Disadvantages to Using a Kindle for Bible Reading:
At first, I was going to be sassy and tell you there aren't any. Still love me? 😉 Honestly, it all boils down to what works for you.
If you aren't willing to try something new, then Kindle Bible reading won't work for you.
If you're opposed to learning new technology, then Kindle Bible reading definitely won't work for you. Stay an old dog refusing to learn new tricks. Yes, I still love you. 😉
If you absolutely love holding a bulky Bible in your hands for whatever reason, keep at it. But if you are willing to expand your horizons and experiment with something you may find foreign at first, you just may like it. Then love it. Disadvantages are in the eyes of the beholder. You choose.
Practical details:
Stay tuned for my next post about Bible reading on electronic devices. I will share how to use the iPhone, iPad, and other mobile apps to read your Bible. I'll give you a list of apps I have tested and use that are great for Bible study, prayer lists, devotions, and keeping notes. We'll also explore the iPad verses the Kindle for reading in general. Will be fun, so check back or even better….subscribe so you get my free updates via email.
So there you have it. This is why I made the switch to Bible reading on my Kindle and why you might too. No matter which you choose, Kindle or a handheld Bible – just keep reading your Bible. It's good for you. And we all need God's goodness in our lives! Dig in and enjoy!