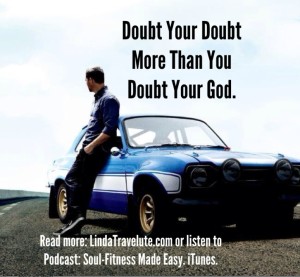 Yes, You'll Get Through This.
How do I know?
Because you're about to read how.
(Or you could hear how by tuning in to the Soul-Fitness Made Easy Podcast in iTunes. Click here.)
Then you're going to beat this thing that's weighed you down.
Beat it I tell ya. You're gonna beat this.
Here's what we're going to do. I'm going to explain why you haven't beaten your problem yet. Whether it be a sickness, a financial downturn, a relationship issue, a friendship gone bad…you name it…I'm going to outline the underlying culprit. Then I'm going to tell you how to quickly fix it.
Ready?
Let's do this!
There's a ton of evidence that the Great Depression might not have been a depression at all had people had their heads in the right place. See, an ugly cloud of panic swept over the country and the world after the stock market crash of 1929.
That panic took over our world and transformed into a great depression. It started mentally and manifested itself financially. What could have and should have been just a deep recession, became bigger and badder than it needed to be.
All because of panic, fear, and doubt.
President Roosevelt tried to stop it with a home run of a speech. His famous, "the only thing we have to fear is fear itself," was the key. But not enough people bought in.
If millions of people can have thoughts run amuck bringing world-wide disaster, think how your own thoughts can do damage in your corner of the world.
The Take-Over
When we spend tons of time thinking about what we doubt, fear and panic takes over. And when that happens, you are headed for catastrophe. It zaps your emotions, drains your energy, taxes your immune system, and robs you of what you need to get out of the mess you're in.
And it's all brought on by doubt.
Crazy little booger, huh?
So here's what you need to do to whip up on that doubt:
1.    Doubt your doubt.
If you're going to doubt something, why not doubt the doubt? That's right, flip it on it's heals. You don't have to doubt. Whenever you start to doubt, say to yourself: "God's going to help me find a way to have everything I need and more."
But my God shall supply all your need according to his riches in glory by Christ Jesus. Philippians 4:19.
If you will change your mind and make it line up with what God's Word says, and keep your mind lined up…that problem will change too.
Ahh, but it's hard to keep your mind changed, isn't it? I know. But you have to dig in and do it. Determine you are not going to think outside the lines of what God says you have. Doubt your doubt, not your God.
2. If and when you're afraid – you have to just do it afraid. That's advice my coaching clients pay me big bucks for! If you do the thing you fear, your fear will disappear.
If you need a little more convincing on that, watch this quick little video clip of me on this very topic. (You'll also discover what inspires Joyce Meyer's hairstyle.) Video clip: Do It Afraid.
3. Trust God more than you trust your doubt. This is the third thing you need to know to get through your problem and whip up on your doubt.
By the way, why are you trusting a doubt? It's a doubt!!!
(Please, please let that sink in.)
A doubt is unfounded. No proof. No evidence. It's just a thought you have. If you can't prove a doubt my friend, then why are you believing it?!
Hello?
When you completely trust God, you don't have to fear anything else. You don't have to doubt. He's got you in the palm of his hand. You can trust him with your life. He's more interested in you than you are. Yes, this is true!
There is no fear in love; perfect love drives out all fear. 1 John 4:18 GNT
So, if you love God perfectly (perfect love trusts 100% – see 1 Cor 13) then you will fear NOTHING. Doubt NOTHING. Why? Because when you love God perfectly, his love drives out all fear.
Did you catch that? If you trust God's love for you 100%, you will fear NOTHING. Doubt NOTHING.
So, with those things in mind, you will get through this. If you:
Doubt your doubt.
Do it afraid.
Trust God more than your doubt.
Doubt your doubt NOT your God! ~Dr. Linda